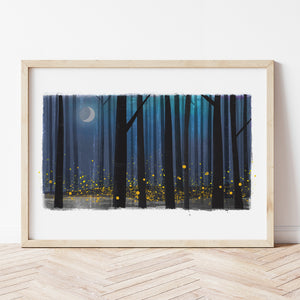 Beautifull, magical,mysterious. A stunning piece of art which pulls you in X Thank you so much .
The Forest at Night Print looks amazing framed up ,in any room , incredible value , yet unique.
My order arrived very prompt and perfectly packed .
I have bought from The Moonlit Press before .Quality ,with a perfect touch .
Part of a series of woodland illustrations inspired by the beauty of the wilderness, the Forest at Night print brings a sense of peace and stillness to your home.
297mm x 420mm
Printed on beautiful textured card
Unframed
Fits a standard A3 frame
Illustrated and printed in the UK